Send Inquiry
Electronic DC Current Relay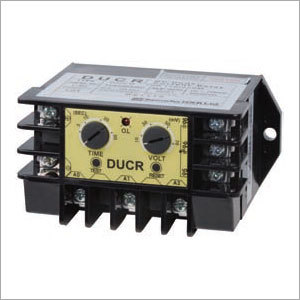 Electronic DC Current Relay
DCL DUCR Electronic DC Current Relay
Our offered DCL DUCR is a kind of Electronic Current Relay that works on direct current that possess a broad protection range that varies from 1 Ampere to hundreds of Amperes. It owes its implementation in the DC motors by switching contact in the case of overload conditions.
Features
DC Overcurrent Relay for DC Motor
The milli-volt(mV) signals generated from the Shunt and power supply are sensed by solid state circuitry and compared with preset overload setting. In case sensing overload condition, the internal relay switches contact after the preset delay. It has easier control operation. It has DC Overload and DC Underload protection relays.
It has wide DC current protection range from1A to hundreds Amps.
DC Ammeter maybe used instead of Shunt (DC Ammeter has its own shunt inside and keep 50mV maintained.)
Protection
| | | |
| --- | --- | --- |
| Protective Item | DCL | DUCR |
| Over-current | O-TIME | - |
| Under-current(Dry-run) | - | O-TIME |
Specification

Current Setting

Type

Setting Range(DCL)

Setting Range(DUCR)

DC Over-current Relay

DC Under-current Relay

70

Secondary Voltage of Shunt(10~70m VCD)

Trip time setting

O-TIME

30sec(Adjustable)

Reset

M

Manual(Instantaneous) / Electrical(Remote)

A

Auto(Instantaneous) Reset(Option)

Indication




LED

Power Supply

Voltage

220

110/220VAC

Other Voltage (Option)

Frequency

440

380/440VAC




50/60Hz

Auxiliary Relay

N

Normally Energized

R

Normally De-energized

Mounting




Panel